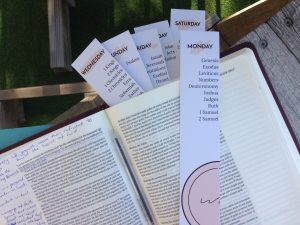 Over the years I've used a number of different Bible reading plans. The following one is quite possibly the best you'll ever come across so I'm excited to share it with you along with some Free Downloads. Whether you're a uni student, work long hours, or have contract work that ebbs and flows, this plan will adapt to your schedule.
There's no set quota to 'catch up on' and you can read as much or as little as you want to each day which makes it perfect for… anyone really.
Simply read your desired portion for the day, pop in a bookmark and return to the same passage on the same day the following week.
The brilliance of this plan is also that it'll have you reading from different sections of the New and Old Testament while allowing you to read more frequently through the New Testament.
I first heard about this plan years ago from one of my favourite Bible teachers, Robert Fergusson. As I sat in a Conference session, Robert mentioned the way he did his devotions during his message and the concept captured my attention.
At the time I scribbled down what I heard, then later Googled in a detective-like manner filling in the blanks of this intriguing Bible Reading Plan and have used it ever since.
More recently I asked permission to share the plan. It was explained to me that he'd borrowed the plan from someone else many years ago so he was more than happy to pass it on. So from him to me, to you. So here goes.
Bible Reading Plan and Journaling method by Robert Fergusson:
Monday: Genesis – 2 Samuel
Tuesday: Matthew, Mark, Luke
Wednesday: 1 Kings – Song of Solomon (excl. Psalms)
Thursday: John, Acts and Revelation
Friday: Isaiah – Malachi
Saturday: Romans to Jude
Sunday: Psalms
Each morning, in my 'place of speaking,' I open my Bible, turn to my daily portion, read as much or as little as time or circumstances allow (with a minimum of one chapter), mark the place where I finish and return to the passage the following week. This system encourages reading from both Testaments and so ensures variety, but also enables me to focus more on the New Testament.

After I have read my Bible, I journal my thoughts each day. On one side of the journal (personal), I write out a verse, my thoughts on that verse and a prayer. On the other side of the journal (public), I write a sermon idea or outline based on my daily reading and also two confessions of gratitude.

-Robert Fergusson
My Experience
This method allows for the ebb and flow of life. It's a stark contrast to 'Read the Bible in a Year' plans which can be overwhelming or see you stuck in obscure sections for weeks. During different seasons we have more or less time to read and this plan gives space for that.
Last tip: if you're finding your Bible reading is a little tired, invest in a new Bible. A different translation can often freshen things up.
Here's the link to the free Free Bible devotional and the link to the Bible Reading Plan for phone. The iBooks app to makes it easily accessible. Alternatively, you can purchase the bookmarks in full-colour print here.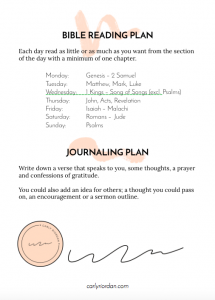 Give it a go and let me know what you think.
In a later blog, I'll be sharing some information about a devotional approach called Lectico Divina that Robert made reference to. Subscribe to carlyriordan.com be sure you don't miss my next post.
Happy reading,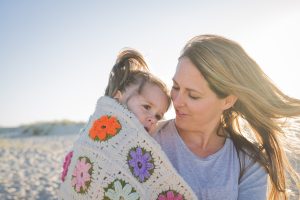 Carly lives on the Gold Coast, Australia with her husband Joe and their two girls: Beni and Selah. She is a passionate follower of Jesus Christ, a lover of His Church, people and life in general.
Inspired by all aspects of creativity & worship, Carly is passionate about helping people to live a Spirit-led life of worship and see them step confidently into all that God has created them for. 
Subscribe to carlyriordan.com to receive infrequent posts (no spam here) and free downloadable products as they become available.